TRAINING INVITATION: Renewable Energy for Sustainable Future; Focusing on Photovoltaic Technologies
---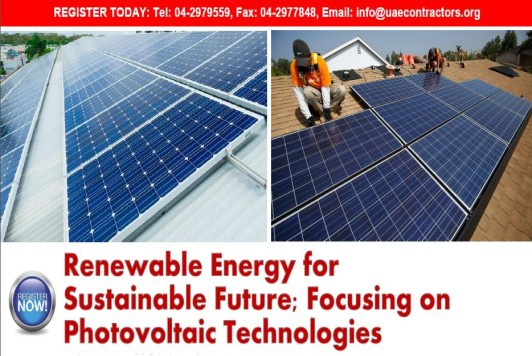 The UAE Contractors Association, in partnership with SELEM DMCC and American University in Dubai, would like to invite you to register for the training: Renewable Energy for Sustainable Future; Focusing on Photovoltaic Technologies scheduled on 28th – 30th of January 2019, 6:00PM to 10:00PM.
Course Content:
Introduction to Renewable Energy
Introduction to Photovoltaic System
Design Elements for Small Scale PV System (Residential)
Design Elements for Large Scale PV System (Commercial/Industrial)
Components Selection for Advance PV System
Advanced Smart Grid and PV System for Sustainable Future
UAE Focus PV Solar System Complete Design
Training Details below:
Date: 28 – 30 January 2019
Venue: American University in Dubai (AUD) - Engineering College
Time : 6:00 - 10:00 PM
Fees : Dhs 2,000 / delegate
NOTE:
*Certificate of completion from UAE Contractors Association, SELEM DMCC, and American University in Dubai - Engineering College.
Please feel free to contact us on 04-2979559 or email: info@uaecontractors.org for registration, queries and clarifications.
UAE Contractors Association
SELEM DMCC
American University in Dubai – Engineering College