Workshop: Project Management Fundamentals in Construction Industry
---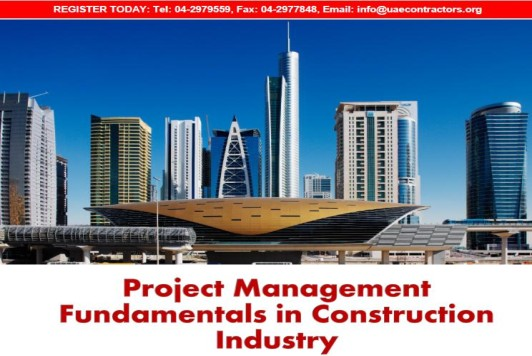 The UAE Contractors Association, in partnership with SELEM DMCC and American University in Dubai, would like to invite you to register for the training/workshop: Project Management Fundamentals in Construction Industry scheduled on 29th of June 2019.
Course will cover the following topics:
- Project Management Fundamentals for any Construction Project
- Measure Success Factors of Projects
- New Innovative Techniques to perform in managing Projects
Training Details:
Date: Saturday, 29 June 2019
Place: Hotel in Dubai
Time : 9:00AM – 5:00PM
Fees : Dhs 1,000 /delegate
NOTE:
Participants will receive Certificate of Completion from UAE Contractors Association, SELEM DMCC, and American University in Dubai – Engineering College
Participants will earn 8 Professional Development Units (PDUs) from PMI
Kindly find the attached flyer for more information. Interested parties, please send us your participant's registration details (Name, Mobile No. & Email ID) to jf.marketing@uaecontractors.org.
Please feel free to contact us on 04-2979559 or email: info@uaecontractors.org for queries and clarifications.
UAE Contractors Association
SELEM DMCC
American University in Dubai