TRAINING INVITATION: Construction Claims & Disputes Management on 13 - 14 August 2018
---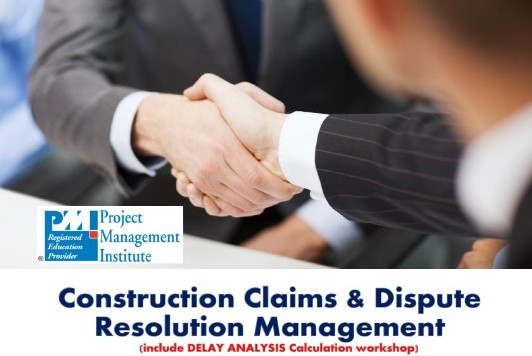 The UAE Contractors Association, in partnership with SELEM DMCC and American University in Dubai – Engineering College, would like to invite you to register for the Training Course: Construction Claims & Dispute Resolution Management (including Delay Analysis Calculation Workshop) scheduled on 5th – 6th of August 2018, 9:00AM to 5:00PM.
Course Overview:
Two days of specialized instruction on avoiding, recognizing, preparing, and resolving claims and disputes arising out of construction contracts. This course concentrates on all types and aspects of construction claims. The course objective is to help you avoid and resolve construction claims and disputes. It is an intensely practical program. The course begins by defining the claims and their types. It then concentrates on preparation of construction claims and describing the link between claims and the contract. You will explore nonjudicial routes to resolving disputes, beginning with negotiation and progressing through mediation and arbitration, with brief examinations of processes such as mini-trials, mediation and arbitration, and summary jury trials. Critical to the course's success is the recognition that, unlike general commercial disputes, construction controversies are special, requiring for their efficient disposition, a unique blend of legal knowledge, technical understanding, project management comprehension and experience.
Who should Attend:
This course is meant for everyone – clients/owners, government officers, contractors, consultants, project managers, commercial managers, project planners, subcontractors & suppliers, lenders, and lawyers. In its approach, this course plays even-handed consideration of the problems of all.
Training Details below:
Date: 13 - 14 August 2018
Venue: Hotel in Sheikh Zayed Road
Time : 9:00AM – 5:00 PM
Fees : Dhs 2,800 / delegate
Course Content:
Claim Identification and Notification
Claims & Contract Clauses & FIDIC
Differing Site Conditions
Interpretation and Requirements of Contract Specifications
Construction Project Delays and Time Extensions
Acceleration and Mitigation of Project Delays
Records and Documentation
Use of Project Schedules and the Critical Path Method in Claims
Impact on Labor Productivity from Claims and Change Orders
Subcontractors and Suppliers
Pricing Construction Claims and Change Orders
Negotiations
Introduction to Disputes
Dispute Avoidance and Alternative Dispute Resolution
Termination of Construction Contracts
Bonds and Liens
Insurance Issues: Construction Claims of a Different Nature
Delay Analysis Calculation
NOTE:
*Certificate of completion from UAE Contractors Association, SELEM DMCC, and American University in Dubai - Engineering College.
**Earn 10 Professional Development Units (PDUs) from PMI
Please feel free to contact us on 04-2979559 or email: info@uaecontractors.org for registration, queries and clarifications.
UAE Contractors Association
SELEM DMCC
American University in Dubai – Engineering College